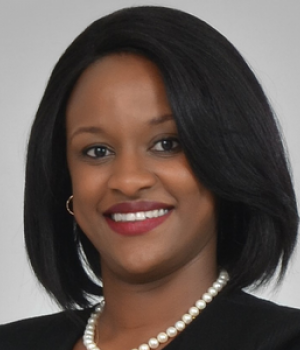 JOYCE GACHUGI - WAWERU
COUNTRY MANAGER
PETCO KENYA
Joyce is a sustainability practitioner with 16 (sixteen) years of work experience gained from working for institutions in both the public and private sector across Africa and the United States of America. Currently, she is the Country Manager of the Kenya PET Recycling Company Limited (PETCO KENYA), the first registered and operational producer responsibility in Kenya. In her role she is driving collective action within the PET Plastic packaging sector toward responsible production and consumption. She has under her stewardship companies such as Coca-Cola, Unilever, BIDCO Africa, Kevian Kenya, BIO Foods, Coca-Cola Beverages Africa (Kenya), The House of Peptang, Naivas Supermarkets, Tuskys Supermarkets among others.
As a social scientist, she is naturally predisposed to tackling issues affecting society. Over the duration of her career, she has been able to create transformational impact for various institutions in the areas of carbon asset development, waste management, climate finance, renewable energy and environmental management.
Joyce is an alumnus of Strathmore Business School, Kenyatta University (Bachelor of Science – Environmental Science, Hons.) and currently a student at Cambridge Judge Business School, a member of the Environmental Institute of Kenya (EIK) and a registered environmental impact assessment lead expert with the National Environmental Management Authority (NEMA).
She currently serves on the board of the Joanne Chazima Sickle Cell Foundation. In 2019, Joyce was nominated as a Global Sustainability Leader by the US Green Chamber of Commerce for her work in driving collective action in the management of post-consumer PET plastics in Kenya.
Her passions are around building partnerships, championing gender equality, promoting social impact and developing social entrepreneurs.
Joyce loves to cook, travel and farm, despite loving sport as a metaphor for life, only Tennis and long walks are her sporting hobbies of choice.
Joyce is married. Life's Mantra – We are born with a blank canvas, paint your picture in the brightest colours.
Links:
https://usgreenchamber.com/global-leader-joyce-waweru-2/
https://www.csc-foundation.org/our-team/