Packaging manufacturer Mondi Group has backed a Kenyan company that is turning plastic waste into roof tiles for homes.
Mondi has selected Eco Blocks and Tiles after it won the Lead2030 SDG12 challenge. Eco Blocks and Tiles will receive $50,000 in financial investment plus 12 months of business coaching. Lead2030 was launched by One Young World, the global forum for young leaders, in November 2018 to support youth-led innovation to contribute to the United Nations' Sustainable Development Goals.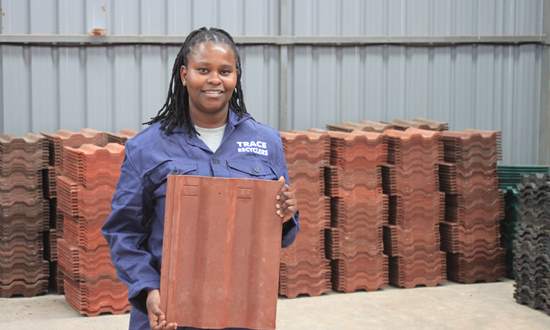 Eco Blocks and Tiles mixes plastic waste with sand to make affordable and durable roofing tiles in Kenya. In 2018, its first operational year, the company sold 50,000 roofing tiles and recycled approximately 50 tonnes of plastic waste. With the funding from Mondi, the company has the potential to increase output by up to 20 times within two years.
Hope Wakio Mwanake, co-founder of Eco Blocks and Tiles, said: "I was born and raised in a poor- neighbourhood in Kenya and the local fields where we once played are now littered with plastic waste. I am determined to help change this by training and investing in local employees, offering a more sustainable solution to plastic pollution.
"Our company helps local plastic pickers earn a salary, tackles plastic waste and lowers the cost of housing. I am really excited that Eco Blocks and Tiles has been selected as a Lead2030 winner by Mondi. We are looking forward to learning from them and are sure it will help accelerate our growth."
Peter Oswald, chief executive of Mondi, said: "Achieving a sustainable future depends on wholescale system change – driven by innovative solutions, business models and partnerships. By connecting entrepreneurial young people with leading global companies, the Lead2030 initiative creates an opportunity to address some of the world's greatest challenges. The Eco Blocks and Tiles initiative, submitted by Hope Wakio Mwanake from Kenya, has real potential to reduce plastic waste and meet the demand for better quality housing in Africa through its eco-friendly roofing tiles made from recycled plastic and sand."
Read the full article via Packaging News here.